Vanguard Realty
Prices and Volume Down in
Thurston County AGAIN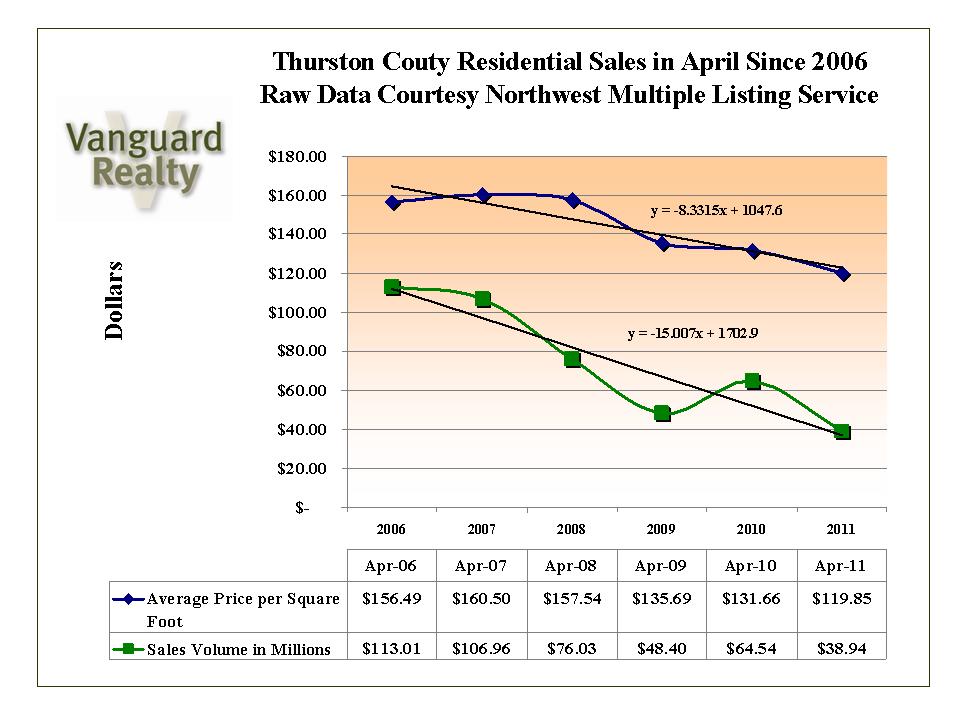 It's still a great time to buy a home.
1. Prices are very low (Same as Early 2004).
2. Interest rates are extremely low.
3. Sellers are making concessions.
Sales volume in April hit a 10 year low last month in Thurston County. This is great news for buyers because prices usually follow pricing trends. Last years tax break is probably responsible for the volume spike in April of 2011. However, he slope of price decline if you consider the two year moving average seems to be good news for sellers. Even though prices are dropping, they are not dropping quite as fast. I know thats pretty thin "good news", but that's the best I can do. Seller need to consider aggressive pricing and take any offers very seriously. The average price per square foot is dropping at almost 1% per month.
Buyers should strongly consider making a move into the market soon. The optimal time to buy will be a time when low interest rates and prices intersect at the most affordable point. Rates may increase while prices continue to slide. In this case you may get a better price but still wind up with a larger payment. The truth is that we won't know when the optimal time to buy is until it's past and we see rates shoot up. In many cases it's more affordable to buy now than rent.
If you are looking to buy in Olympia, Lacey, Tumwater, Fort Lewis or Dupont call a Vanguard Real Estate consultant today. They are better skilled and will always negotiate in your best interest.
Buyers
If you are looking to buy a home, you came to the right place. Vanguard Realty agents are experts on negotiation, mortgages, home selection and the home buying process.
Sellers
Vanguard Realty has a great mix of real estate agents for residential , commercial, land and property managment. We have a professional home stager, real estate appraiser and property manager on our staff. Read more.